Sardar Daljit Singh Sethi is a multifaceted personality, having been an accomplished sportsman, with a Degree in Commerce and Diploma in Business Management and well set to be part of his family business, opting for a two decade long tough timber business in the forest of Kashmir, later mining at Kota, continuing to Vadodara where he excelled in stocks and shares.
He was born in Jhelum, undivided Punjab in 1938 and was profoundly influenced by his grandfather, considered as a 'saint', from whom he imbibed the virtues of serving the course of humanity. Besides setting up the Kota Heart Foundation and Noble Heart Foundation, and a School for the Deaf, Dumb and Blind, he initiated many free heart check-up camps followed by free surgeries. He has also organised several public events and speeches on World Understanding & Peace and Peace, Harmony & Integration, fostering brotherhood. Daljit as Additional Chief Convener, Bombay, organised "Hands of Harmony Across India". In 1994, at All India Level to experess solidarity for peace and communal harmony. Daljit was appointed Member, ICCR –Advisory Committee, Mumbai, in 2008.
Daljit believes that there is a strange spiritual oneness in the trance that an Artist experiences when he explores his creative domain – akin to the experience one gets in Meditation -resulting in the Art possessing the capacity to elevate and soften the human being. A true Artist creates Art as a reflection of Divine glory, wherein the Artist manifests his internal thoughts, which emerge after a meditative period of stillness within – beauty for such an Artist is a reflection of the glory of God.
Daljit Singh Sethi, founder and chairman of Aura Art, has been actively interacting with artists from the north and the west [of India] for 30 years, while Harmeet Singh Sethi, CEO of Aura Art, has been travelling across the country for over 10 years. Between the both of them, they have analysed more than 10,000 artists, through physical meetings, viewing works physically in shows and / or in catalogues. The artist is selected after a review of his work, background, motivation and thoughts. Eventually, only artists that repeatedly demonstrate the ability to innovate and deliver quality execution are chosen to form part of the Aura Art Collection.
As Director of Aura Art eConnect Pvt Ltd, Daljit undertakes Promotion of Visual/Fine Art and Artists who are spiritually and sincerely engaged in creating great works of Art – Paintings, Sculptures, Photographs, Prints etc. With a view to propagate the ideology, heritage and history of Sikhism, the Company also promotes Artists creating Sikh Art.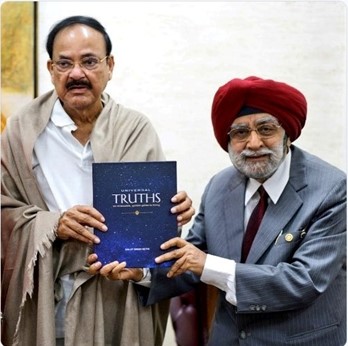 A thinker, philosopher, and an orator par excellence, his book Universal Truths will surely pave the way for seekers to dive deeper and enter into a truthful, righteous, relationship with the Existence all around, for a greater good. Release of the book took place at a simple and dignified event at the residence of the Vice President of India Mr Venkaiah Naidu on 19 November 2019.
The book has been authored and published by Daljit Singh Sethi and promoted by Aura Art of which he is founder.
The book begins with a special message from Daaji – Kamlesh D Patel, Founder Heartfulness Institute at Kanha Village in Rangareddy District of Hyderabad, thus
I am always mesmerized by Omkar, the sound of which creates finer inner ripples of craving and love for the Ultimate. Many seekers of God practice Omkar and desire to have this repeated internally over a period of time, so that a day may dawn when it may sound and resound effortlessly in the heart, permanently. Now, if I hit a hammer on a stone or a piece of wood, what sort of a sound will it produce? But if I just tap a drum that is well tuned, it will make the desired sound. We have a spectrum of hearts – some produce lovely echoes of Omkar, and some are like black holes absorbing all that is produced. One has to create that suitable heart that can invite noble Divine Melodies.
Imagine for a moment we are sitting at the feet of most revered Shri Guru Nanak Dev ji. Imagine what sort of music will play out in our hearts while we are with Him. Would we remain sorrowful or would we be in some state of ecstasy?
Now, let me pose a real question: Is He not with us? He is closer than one can imagine, but how to feel His presence, His fragrance? How shall I prepare my heart so as to attract His most loving and compassionate gaze? What remains buried in my heart that may repel Him? Is it not time for me to throw out anything undesirable? Once the heart becomes purer, I begin to design my destiny with my Lord. His presence can easily be felt in the core of a pure heart.
The question remains: How to access this core? I leave this question to you, my dear sisters and brothers. The answer is not difficult. The solution is even easier. His presence is closer than one can imagine. I pray that we all may one day inhale His spiritual fragrance in totality, with no restraints.
Shri Guru Nanak Dev ji was the most practical being. I have heard so many stories from His life. One that is often quoted in many assemblies is the story about His visit to Mecca, when He slept with his feet towards the Kaaba. He taught them the essence of the One Truth that it does not matter which side you direct your feet, as long as your heart is always attentive towards Him and Him alone, Ek Naam.
He would say in ecstasy, with total conviction, that God is omnipresent, omniscient and omnipotent. He made these remarks after actual experiences, and that is why His words touched whomsoever heard Him during His lifetime. Unfortunately, we merely believe in these statements, without daring to make them part of our life. Believing in God may be a luxury for some people, but to feel His presence is a reality that is so easy, so Sahaj. Belief will only console our hearts. We must take the next step in realising that belief, actualizing that "the One Name is the only Truth."
Common Principles: Most Revered Guru Nanak Dev Ji gave simple principles and lived by those principles every moment. Those simple principles became part of His worthy successors. One common garland of qualities that emerges from Their lives is the need to remain simple, pure, compassionate, serving and above all, remaining authentic and simple. We too are His successors as we represent Them with our love. Our lives must ooze out these principles in our daily rhythm.
It must have been a very difficult task for Shri Daljit Singh Sethi to select a few of the verses from Shri Guru Granth Sahib, since all those verses are so potent. The collected verses are a tonic to the soul in our present times, and we can write volumes on each verse. But my thirst would be quenched only when 1 have done with those lofty spiritual states described in words.
While immersing myself in the words coined in this manuscript, I could not help but feel joy and reverence. Some level of courage sprang up in my heart. When I saw the photo depicting the beheaded Guru Tegh Bahadur ji, I could not help but cry, weeping for days. I could not write a single word of the Foreword due to this grief, as if it happened only yesterday. But when I was reminded of writing the Foreword again and again, I muscled up the courage to express my heart. My heart is still fluttering with the feelings experienced by many during that time period. What must have gone through so many innocent and helpless hearts of that epoch? One can only imagine what resolve must have transpired in the heart of his darling son, little Gobind! No wonder he paved the way, creating warrior Saints. It was once again the time for another Mahabharat, to establish righteousness. May His dreams be fulfilled.
Unfortunately, Shri Guru Gobind ji also becamelhe victim of wounds inflicted by, once again, some greedy and misguided Nawab of Sirhind. As was ordained by the Supreme One, it was the end of the line of Guru Sahiban who founded, propagated and courageously upheld a new faith. In October 1708, Shri Guru Gobind Singh ji passed on His mantle of Guru to Shri Guru Granth Sahib. The hope is we are enabled to realize the closeness of our revered Guru, our Lord within our hearts – and peace results and there is no more strife.
Talking about profound verses, my favourite one is:
He possesses all qualities; He transcends all qualities; He is the Formless Lord. He Himself is in Primal Samadhi. Through His Creation, 0 Nanak, He meditates on Himself
These are direct signals, conveyed through Shri Guru Granth Sahib, on the profound need for all to meditate and arrive safely to the original Home. "He possesses all qualities; He transcends all qualities; He is the Formless Lord. He Himself is in Primal Samadhi. Through His Creation, 0 Nanak, He meditates on Himself." Please pay attention to the means prescribed here, once the final goal is conceived and fixed in the mind. Here the means prescribed by Shri Guru Granth Sahib is meditation. When He, the Creator, also meditates, then we must ask ourselves this vital question: What about me – am I following the words of my Guru?
If we are not listening now, then when? Do we plan to listen and obey? Let us analyse what this Samadhi is that is mentioned here, and how to arrive at it. What sort of meditation is He talking about? It will be a tragedy if we simply read and plan no real action.
In his Preface, Daljit Singh Sethi writes;
Waheguru (God) is the continuum of the ultimate, exalted state of supremacy with no beginning and no end whatsoever. By the Will and Command of Waheguru, the universe with all its innumerable astral bodies and forces — His creation — came into being, all with a pre-ordained, pre-programmed process of evolutiori. With the passing of time, on our planet, various species of life forms evolved, culminating finally in the beautiful form of the human race. And as the human race grew in numbers and spread, social order became imperative. Truths came to be understood, appreciated, followed and established. They were Eternal Truths; intrinsic, pure, unquestionable and unalterable and because they were Eternal with no time constraints, they became, by logical deduction, Universal too — in other words, applicable to all domains, in all contexts.
This book, Universal Truths, is a humble attempt to recapture a few of the several "gems" recorded and interpreted in the Sri Guru Granth Sahib Ji, the Living Embodiment of the Sikh Gurus who, with great pains, invested all Their lives in enriching and giving final shape to a document that has come to stay for all time. For easy reference and interest, those "gems" have been listed herein under select subject headings that we identify our daily lives with and on the basis of which the smooth propagation and meaningful existence of the human race is dependent on.
In the ancient past, as communities grew and consolidated over time, people grouped themselves according to their different cultures and came to be strongly influenced by different faiths. It was not long before dogmas, myths and superstitions surfaced, trapping communities in pockets too narrowly-focused and pitching them against each other with petty claims and differences. These differences later led to serious animosities which in turn escalated to wars. Chaos spread while invaders took advantage of divisive forces in a bid to establish their own power and authority.
It was during this riotous period, by the Will of VVaheguru, that Guru Nanak Dev took birth in the village of Nankana Sahib, then a part of India. It was ordained, Sri Guru Nanak Dev Ji would, during His lifetime, streamline faiths through revolutionary concepts and deliver a comprehensive document of Eternal and Universal Truths that would appeal to one and all. His extraordinary approach to life and spirituality raised questions, the answers for which, were as radical as they were self-evident. To Him, the world was a place where one could meaningfully live a life of righteousness. To Him, the world was not 'Maya' or Mithiya (illusion) or a place of suffering, but a place that allowed for active service to The Only One, atonement and a
life of great contentment. Guru Nanak's irrefutable statemertt conclusively says it all:
"Everything is lower than Truth but higher than Truth is Truthful Living."
It was also ordained that Sri Guru Nanak Dev Ji would, in spirit, traverse through the life of each of the nine Gurus who followed after Him (all of them staunch monotheists like Him), culminating in the final documentation of the Sri Guru Granth Sahib Ji. The Guru Granth Sahib is an exhaustive treatise on sublime thoughts, principles and doctrines. It endorses following the path of strength in the company of God-conscious and God-loving people — a process, it says, will help cleanse the individual of his ego and help him lead a life of justice, peace and contentment.
It is significant and pertinent to note here that, for the Sikhs, the Sri Guru Granth Sahib Ji is not merely a Holy Granth of principles but the living embodiment of Sri Guru Nanak Dev and all the nine Guru Sahibans who followed His footsteps thereafter. No wonder then, the Guru Granth Sahib is held in such high veneration and given the status of a Living Guru for all times to come. Reference, therefore, to the Guru Granth Sahib is always made as though it were a person, a Living Guru, in whose perpetual: holy presence worshippers sit and sing praises of the Supreme One, Waheguru.
The Sri Guru Granth Sahib Ji embraces a Single Loving God, the Creator of the Universe and the Embodiment of all Virtues. The Benevolence and Altruistic Will of that Supreme Power regulates, guides and maintains the Universe. Heavenly bodies collide and disintegrate on His Command, while new stars and planets take birth from the depths of the He Milky Way. He is Omnipotent, Omnipresent and Omniscient, manifesting Himself in ways that are sometimes awe-inspiring, sometimes serene, sometimes stunningly beautiful, and at other times, most endearing and lovable. His all-pervading presence instills humility in all that we do, as we look upon Him as our constant and trusted Benefactor. Such a feeling of profound admiration, veneration and love of God induces not only individual responsibility but collective and social responsibility as well. All of this is, in fact, ingrained in the Sikh ideology —hymns are sung with great humility and love for God. The chanting of hymns in chorus is soul-soothing and soul-searching, unifying all in contemplation of that Supreme Being that resides, though formless, in us and in everything we see around us. God, to the Sikhs, is not only Immanent but Transcendent as well. God is, not only an intrinsic part (Immanent) of the Universe and all that is there in it, but He is outside the Universe too (Transcendent) — Eternal, Self-existent. He exists undivided by time, space or changes in the Universe.
"God created the world of life, planted Naam (the Immanent aspect of God) therein and made it the seat of righteousness."
Though Naam relates to the intrinsic aspect, the Gurus never referred to Naam in a restrictive sense. For Them, the word meant the Highest Power orchestrating the entire Universe. For Them, man is elevated to a higher plane when he abides and works by the word of God and Naam. In fact, They regard man's birth as an opportunity to attain a spiritually elevated state.
"After ages, this invaluable opportunity of human birth is available, but one loses it for nothing."
The Gurus see God as the "Ocean of Attributes, Values and Virtues." The opportunity provided to man to live by His ideals is therefore immense.
The dedication of Sikhs to the tenets and principles of their faith, precludes idol worship, asceticism, rituals and self-restraining practices of austerity. Sikhism is a faith that expects one to guide one's daily life through self-discipline, self-control and active practice of righteousness — resulting in the true elevation of man's spirit to a sublime plane. One other unique feature of the Sikh faith is the oneness of spirit and mission among all the Guru Sahibans who in Their successive life spans propagated the Faith without any deviation and with absolute reverence and selflessness.
As mentioned earlier, all the nine Guru Sahibans who succeeded Sri Guru Nanak Dev Ji were embodiments of His spirit. The sublime flow of spirit from Guru to Guru, ended with the Tenth Master, Sri Guru Gobind Singh Ji who, in an act that climaxed the lineage of the Gurus. handed over the Guruship to the last of the Living Masters, the SRI GURU GRANTH SAHIB JI. Regarded by the Sikhs as the very personification of the Gurus, the Sri Guru Granth Sahib Ji is a merging of identities of all the Gurus and Their profound teachings into one single Volume of Eternal Truths.
The suffix 'Singh' to a Sikh's name goes back to the days of Sri Guru Gobind Singh Ji Whose extraordinary self-discipline, mental repose, valour and physical strength prompted Him to conceive the KHALSA PANTH. He was driven by the self-imposed martyrdom of His father to combat all that was evil and opposed to justice. The initiation of five chosen Sikhs into the Panth was ceremoniously performed at a huge congregation, yet unmatched in history. The ceremony was marked by the elaborate preparation of the AMRIT, nectar. Water was stirred in a large iron vessel with a double-edged dagger (symbolic of the spirit of bravery) to the continuous chanting of the Gurbani. With the permission of Sri Guru Sahib Ji, 'patashas' were added to the water by His wife to make it sweet. The AMRIT was then served to the five Sikhs (belonging to different castes and occupations), baptizing and converting them into SINGHS… LIONS! The KHALSA PANTH was thus born in this process! The Guru then requested the Panj Payaras (Baptised Singhs) to baptize Him in turn in the same manner — demonstrating in the process, His remarkable humility and sense of righteousness.
All the Guru Sahibans, with exemplary earnestness, dedicated Their lives to the compilation of the exhaustive Sri Guru Granth Sahib Ji. It was as though the BANI (sublime voice) were revealed to Them by WAHEGURU while They, in turn, spared no efforts to record and interpret it even if it meant having to live a life of ordeals and extreme sacrifices. Their lives truly exemplify the devotion and spiritual strictness with which They followed the Gurbani.
The Guru Granth Sahib Ji is a phenomenal treatise spread across 1430 pages. It is unique inasmuch as it incorporates relevant hymns of other religious faiths as well. Along with the hymns of six Sikh Guru Sahibans, the Holy Guru Granth Sahib goes on to record the hymns of four Sikh Bards, 15 Bhagats and Saints, and 11 Bhatt Authors of Hindu and Muslim communities. It is, in spirit, an unprecedented volume of sublime thoughts that the entire human race can draw upon, absorb and abide by. In the entire history of mankind, the Sri Guru Granth Sahib Ji is the only scripture completed, signed, sealed and delivered by the founder of the faith during His lifetime. The wisdom contained in this sacred Guru Granth Sahib is the wisdom of WAHEGURU as REVEALED to the Guru Sahibans and a chosen few — it is meant to be read, imbibed and adopted for an enchanted life of contentment and bliss as intended by the SUPREME MASTER.
The Tenth Master, while handing over the Guruship to the Sri Guru Granth Sahib Ji, proclaimed: :
Agya Bhai Akal Ki Tabe Chalyo Panth
As was ordained by the Timeless, thus was established the Panth.
Sabh Sikhan Ko Hukam Hai Guru Manyo Granth
To all Sikhs, let this be the order, recognize the Granth as your Guru.
Guru Granth Ji Manyo Prakat Guran Ki Deh
The revered Guru Granth is the visible body of the Gurus.
Jo Prabh Ko Milbo Chahe Khoj Sabad Mein Leh
Those that seek to meet with Waheguru, delve into the Shabad.
If some gems of wisdom from an unfathomable reservoir have been picked with care and grouped under various headings, I submit, it is in the humble role of a seeker that I have chosen to tread this arduous path. In doing so, if some others who may seek are motivated to probe deeper and connect with the one and only Supreme Master of the Universe, my purpose in producing this book will have been served in no small measure. This exercise has all been at the behest of Sri Guru Granth Sahib Ji in Whose mystical aura I stand in absolute submission. If, as a result of sheer human frailty, some errors may have inadvertently crept into this volume, I seek 'His' pardon in utter humility.
The Contents are wonderfully presented from Hukam (God's will) to Harmandir, (God's Abode).
Waheguru
The Wondrous Lord
| | |
| --- | --- |
| | So Dar — That Door. Raag Aasaa, First Mehl: One Universal Creator God. By The Grace Of the True Guru: Where is That Door of Yours, and where is That Home, in which You sit and take care of all? The Sound-current of the Naad vibrates there for You, and countless musicians play all sorts of instruments there for You. There are so many Ragas and musical harmonies to You; so many minstrels sing hymns of You. Wind, water and fire sing of You. The Righteous Judge of Dharma sings at Your Door. Chitr and Gupt, the angels of the conscious and the subconscious who keep the record of actions, and the Righteous Judge of Dharma who reads this record, sing of you. Shiva, Brahma and the Goddess of Beauty, ever adorned by You, sing of You. Indra, seated on His Throne, sings of You, with the deities at Your Door. The Siddhas in Samaadhi sing of You; the Saadhus sing of You in contemplation. The celibates, the fanatics, and the peacefully accepting sing of You; the fearless warriors sing of You. The Pandits, the religious scholars who recite the Vedas, with the supreme sages of all the ages, sing of You. The Mohinis, the enchanting heavenly beauties who entice hearts in paradise, in this world, and in the underworld of the subconscious, sing of You. The celestial jewels created by You, and the sixty-eight sacred shrines of pilgrimage, sing of You. The brave and mighty warriors sing of You. The spiritual heroes and the four sources of creation sing of You. The worlds, solar systems and galaxies, created and arranged by Your Hand, sing of You. |
| | They alone sing of You, who are pleasing to Your Will. Your devotees are imbued with Your Sublime Essence. So many others sing of You, they do not come to mind. 0 Nanak, how can I think of them all? That True Lord is True, forever True, and True is His Name. He is, and shall always be. He shall not depart, even when this Universe which He has created departs. He created the world, with its various colors, species of beings, and the variety of Maya. Having created the creation, He watches over it Himself, by His Greatness. He does whatever He pleases. No one can issue any order to Him. He is the King, the King of kings, the Supreme Lord and Master of kings. Nanak remains subject to His Will. !!1!! Raag Aasaa, Fourth Mehl, So Purakh — That Primal Being: You are constant in each and every heart, and in all things. 0 Dear Lord, you are the One. Some are givers, and some are beggars. This is all Your Wondrous Play. You Yourself are the Giver, and You Yourself are the Enjoyer. I know no other than You. You are the Supreme Lord God, Limitless and Infinite. What Virtues of Yours can I speak of and describe? Unto those who serve You, unto those who serve You, Dear Lord, servant Nanak is a sacrifice. !!2!! |
| | Jholnaa: Waaho! Waaho! Great! Great is the Play of God! He Himself laughs, and He Himself thinks; He Himself illumines the sun and the moon. He Himself is the water, He Himself is the earth and its support. He Himself abides in each and every heart. He Himself is male, and He Himself is female; He Himself is the chessman, and He Himself is the board. As Gurmukh, join the Sangat, and consider all this: Waaho! Waaho! Great! Great is the Play of God! !!2!!12!! You have formed and created this play, this great game. 0 Waahay Guru, this is all You, forever. You are pervading and permeating the water, land, skies and nether regions; Your Words are sweeter than Ambrosial Nectar. Brahmas and Shivas respect and obey You. O Death of death, Formless Lord, I beg of You. By Guru's Grace, the greatest thing is obtained, and the mind is involved with the Sat Sangat, the True Congregation. You have formed and created this play, this great game. O Waahay Guru, this is all Your making. !!3!!13!!42!! |
Universal Truths
ISBN No.978-03-5391-377-9
Price Rs 2000 (US$ 60)
Promoted by Aura Art Development Pvt Ltd,
Mumbai
Harmeet Singh Sethiharmeet@auraart.in
www.artinfrasolutions.com / www.auraart.in