Sri Guru Granth Sahib (SGSS) is Guru Eternal for the Sikhs. Since 1708, on the declaration by  Guru Gobnd Singh, SGGS is regarded by Sikhs as the final, sovereign and eternal living Guru after the lineage of Ten human Gurus.  Its first comprehensive version was a collaborative effort of Guru Arjan (1563–1606) and his trusted associates, particularly Bhai Gurdas (1551-1636) and Jagana Brahmin of Agra. It was completed in 1604 and was called Adi Granth.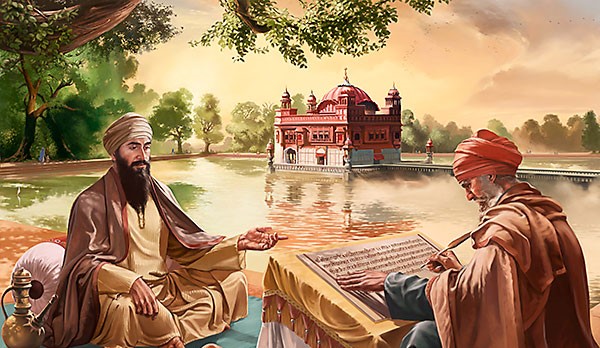 Adi Granth was installed by Guru Arjan at Harimandir Sahib (Golden Temple), Amritsar with Baba Budhha ji as its first granthi (priest). The oldest surviving manuscript version of the Adi Granth is in the Guru Nanak Dev University's archives (Manuscript No. 1245 dated to c. 1599),  later updated by Guru Gobind Singh in 1706 and  known for eternity as Guru Granth  (SGGS) which is installed in all gurudwaras and most Sikh homes.
This article briefly reviews the evolutionof  SGSS,  its various authors/contributors, its prayers, musical ragas in which various hymns have been set and some commonly followed religious practices regarding reverence, upkeep and recitation for practicing Sikhs and much more, for many sections of society in this world.
Evolution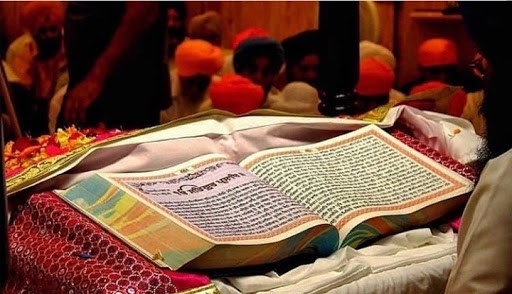 It is known that a number of versions, primarily based on writings of the first three Gurus and their contemporaries, were in circulation by the late 16th and very early 17th centuries. To discourage and put such proliferations to rest, the Fifth Sikh Guru, Arjan Dev took upon himself to prepare an authentic version.
He began by compiling the sacred scripture for the Sikh community sent his associates to collect the circulating hymns of the Gurus and convinced Baba Mohan (born 1536), eldest son of Guru Amar Das, to give him the collection of religious writings of the first three Gurus, which he did after some persuation. Having obtained authentic material, Guru Arjan selected and edited the hymns for inclusion, with Bhai Gurdas as his scribe. He called this compilation as Pothi Sahib (same as the Adi Granth).
Here mention needs to be made about two other contemporaty versions, or Birs as the Granth is often referred to by Sikhs. The Kartarpur vali Bir and the Bhai Banno vali Bir. Bhai Banno (1558-1645), a devout Sikh was contempory of Guru Arjan Dev. When the Adi Granth was compiled by Guru Arjan in 1604, he asked Bhai Banno to take it to Lahore for binding. During this journey, Bhai Banno is reported to have made another copy in which some addition/alterations were made, including the insertion of a hymn by Mira Bai. However, Guru Arjan installed the original pothi at Harmandir Sahib and returned the other to Bhai Banno which he installed in his house at Village Khara Mangat. The author Khushwant Singh however lists Mira Bai as one of the saints/bhagats whose hymn is in the Adi Granth, which is doubtful.
The original Adi Granth, known also as the Kartarpur Vali Bir is in possession of the Sodhi family of village Kartarpur and placed at Gurdwara Thum Sahib.The orginality of this master copy scribed by Bhai Gurdas under direct supervision of Guru Arjan Dev had been vouched for by top Sikh scholars, including Bhai Jodh Singh after thorough scrutiny of the holy text. This bears the original signature of Guru Arjan Dev ji.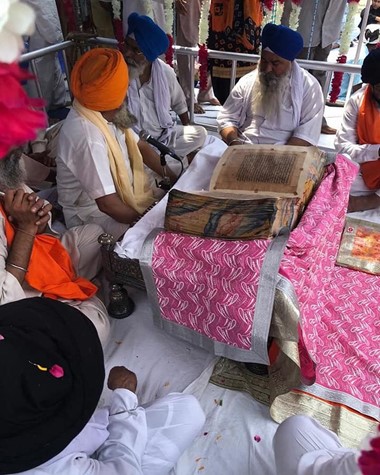 The original copy of Adi Granth was initially kept by Guru Hargobind at his home but was stolen by his grandson Dhir Mal. Some thirty years later, the followers of Guru Tegh Bahadur forcibly recovered this but were then instructed by the Guru to return it.
The Holy Book emerged from obscurity in 1849 following annexation of the Punjab when the Granth and its golden stand were "discovered" by the British to be in custody of the Lahore royal court. Later, an application was received from Sodhi Sadhu Singh of Kartarpur and in 1850, the volume was returned to his family. Ever since, it has been a ritual for descendants of Dhir Mal (the Sodhi family) to display the Adi Granth for "darshan" or public viewing at Gurdwara Thum Sahib.
In 1706, the Adi Granth had been revised, rather updated by Guru Gobind Singh (1666-1708), the Tenth Sikh Guru at Talwndi Sabo, Damdama. Inspite of being a prolific writer himself with power of authority, he did not add any of his own hymns but 115 hymns penned by Guru Tegh Bahadur (1621-1675), the Ninth Sikh Guru. This second rendition is known as Sri Guru Granth Sahib (SGGS). This version of SGGS is venerated by Sikhs as their Guru and installed in every Gurudwara and at many homes.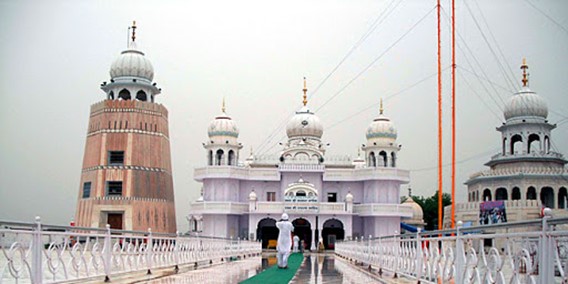 SGGS primarily contains the compositions of six Sikh Gurus: Guru Nanak, Guru Angad Dev, Guru Amar Das, Guru Ram Das, Guru Arjan Dev and Guru Tegh Bahadur. Although their compositions form its dominant part , it also contains the poetic teachings of thirteen Bhakti movement saint poets, two Sufi Muslim poets as also of 11 Bhatts, most whom were bards in the court of Guru Arjan Dev.
The SGGS is in Gurumukhi script which was developed and standardised by Guru Angad Dev. Though commonly (but erroneously) regarded as a script of the Sikhs, this is the manner in which Punjabi is now written. The official versions of SGGS are produced in Amritsar by Shiromani Gurdwara Parbandhak Committee (SGPC). Their printers are the only authorised worldwide publishers of the holy scripture while the Delhi Sikh Gurudwara Management Committee is the authorised printer and supplier of copies of the SGGS outside India.
Since the early 20th century, SGGS has been printed in a standard edition of 1430 Angs (pages), prior to the nineteenth century, only handwritten copies were prepared. The first printed copy of SGGS was available in 1864. Any copies of SGGS deemed unfit to be read or are not in good shape, are duly cremated, in a ceremony similar to that for cremating a deceased person.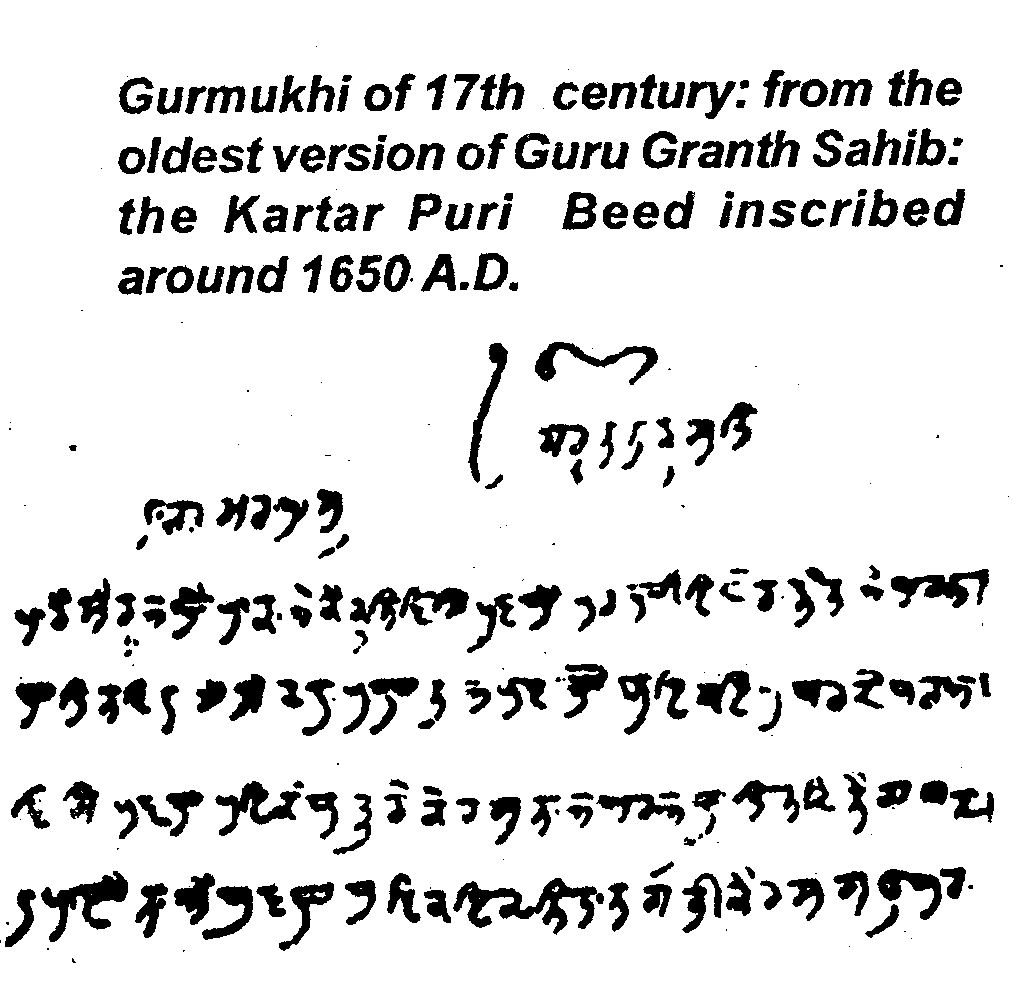 An introductory section consisting of the Mool Mantar, Japji Sahib and Sohila, composed by Guru Nanak; SGGS starts with the Mool Mantar whose opening words are "Ek Ongkar, Sat Naam, Karta Purakh, Nirvair, Nirbhau, Akalmurat, Ajunisebhang, Gur Prasad". The main body thereafter consists of compositions of Sikh Gurus, interspersed with those of several saints, bhagats, poets, sufi saints and bards/bhatts from various parts of India.
Over the decades, SGGS has reportedly been translated into various languages, including Lahnda (Western Punjabi), Braj Bhasha, Kauravi, Sanskrit,Sindhi and Persian. SGGS is now also available in English and Spanish. Dr Gopal Singh Dardi (1917-1990), the eminent Sikh scholar and educationist completed the first full translation of the SGGS into English in 1960. In 2000, a French translation was completed by Dr Jarnail Singh of Toronto, Canada. A Mexican Sikh, Babaji Singh Khalsa (1947-2006) translated SGGS into Spanish over a 30 year period starting in 1975 using Dr Gopal Singh's English version as base material. A copy of this version was presented at Hazoor Sahib, Nanded by his widow in 2008.
Contributors
Although SGGS predominantly contains hymns of the Sikh Gurus, there are significant contributions from several Hindus seers and Sufi Muslim saints. They lived from the 12th to the 16th century, came from the higest to the lowest castes, from different regions of India and practiced a wide variety of beliefs and professions. They included several saints, bhagats and poets, a farmer, a barber, a butcher, a weaver, a chamaar, and even a king.
The thought process and secular approach of Guru Arjan Dev is very clear, as during the compilation and he was more focused on contents of the message rather than the messenger and from where it came. To an ordinary mind, it would be unthinkable, even in the 21st century to include the verses of "low caste untouchables" in a holy book but SGSS has 541 verses by a weaver (Kabir) and 41 by a chammar (Ravidas) among many others. In doing so, the Guru decimated the repugnant boundaries between so-called highest and the lowest caste.
Contribtions from the Sikh Gurus in SGGS range from 62 hymns by Guru Angad Dev to 2218 compositions by Guru Arjan Dev (45% of the total compositions by the six Gurus). Compositions penned by persons other than the Gurus range from a single line by Bhagat Surdas to 541 hymns of Bhagat Kabir. In fact Kabir's hymns make up almost 60 percent of such compositions followed by 14 percent by Bhagat /Baba Farid.
Compositions of the Sikh Gurus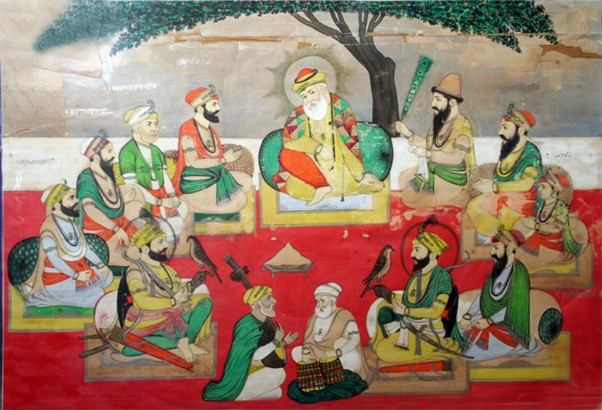 Guru Nanak Dev was born in 1469 at Rāi Bhoi Kī Talvaṇḍī village, now Nankana Sahib, passed away at Kartarpur, both places which are now in Pakistan: Son of Khatri parents Kalyan Das Mehta (Mehta Kalu) and Mata Tripta, he was "Founder" of the Sikh faith. SGGS has 974 of Nanak's hymns. Two of these shabads are in the memory of Bhai Mardana, the Guru's life long companion and rabab-player. In fact the SGGS starts with Guru Nanak's Mool Mantar consisting of 12 words. The SGGS begin with the Mool Mantar. Guru Nanak also composed first parts of the Sikh Aaarti ode to the Lord.
Guru Angad Dev (born at Matte di Sarai, Muktsar, Punjab in 1504, passed away at Amritsar in 1552). Son of Hindu Khatri parents Pheru Mal and Mata Ramo and named Lehna, he was the Second Sikh Guru. Guru Angad is credited with developing and standardising the Gurumukhi script, which literally means "from the Guru's mouth". It is now the standard script of the Punjabi language in India and elsewhere. SGGS contains 62 of his hymns. In addition, he is also known as consolidator of Guru Nanak's hymns.
Guru Amar Das (born in 1479 at Basarkea, passed away in 1574 in Goindwal, Punjab): Son of Hindu Khatri parents Tej Bhan and Mata Lachmi, he was the Third Sikh Guru. He was an innovator who introduced religious preaching known as the manji system by appointing trained clergy in different parts of India. He wrote and compiled hymns into a Pothi (book) that ultimately formed basis of the Adi Granth. Guru Amar Das also established Sikh traditions relating to the naming of a child, conducting weddings (Anand Karaj), and funeral rites. He also selected the site in a village for the temple which the fourth Guru Ram Das started building (Darbar Sahib, or universally the Golden Temple). SGGS contains 907 of his hymns, including Anand Sahib which is set in Raga Raamkali and is a part of the daily recitation.
Guru Ram Das (born in Lahore in 1534, passed away in 1581 at Gondwal, Punjab): Born as Jetha to Khatri Sodhi parents Hari Das and Anup Devi, he was the Fourth Sikh Guru and and son in law of Guru Amar Das. He also expanded the manji organisation for clerical appointments which was stared by Guru Amar Das. Guru Ram Das is also recognised as founder of the holy city of Amritsar. SGGS contains 679 of his hymns, most of which he composed in the Indian classical music notes known as Ragas.
Guru Arjan Dev (born in Goindwal in 1563, passed away in Lahore in 1606). Son of Guru Ram Das and Mata Bhani, he was the Fifth Sikh Guru, the planner, collector, contributor, compiler and editor of the first official version of SGGS known as Pothi Sahib or the Adi Granth. He completed construction of Darbar Sahib at Amritsar which had been begun by the fourth Sikh Guru and had the Adi Granth installed there with Baba Buddha as its first priest/granthi. Guru Arjan was a prolific poet and composed 2,218 hymns (more than a third of hymns in SGSS). One of his prayers commonly recited in Sikh households is the Sukhmani Sahib (literally meaning Prayer of Peace and Happiness). It is a set of 192 padas or stanzas made upof 24 ashtapadis of 10 hymns) and appears on pages/angs 292 to 296 of SGSS.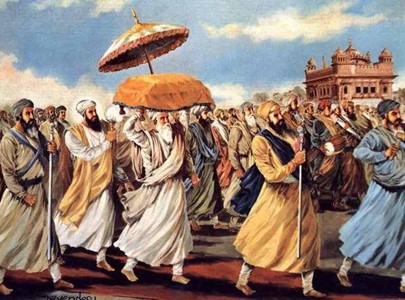 Guru Tegh Bahadur (born at Amritsar in 1621, passed away in Delhi in 1675): Born Tyag Mal, he was the son of Guru Hargobind (the Sixth Guru) and Bebe Nanki and was the Ninth Sikh Guru. SGGS contains 116 of his hymns which were incorporated in the Adi Granth by Guru Gobind Singh, the Tenth Sikh Guru in 1706 at Damdama. His hymns which are spread over pages 219 to 1427 cover a wide range of subjects pertaining to the nature of God, human attachments, body, mind, sorrow, dignity, service, death and deliverance.
There are no writings of the other four Gurus in Guru Granth Sahib.
Other Contributors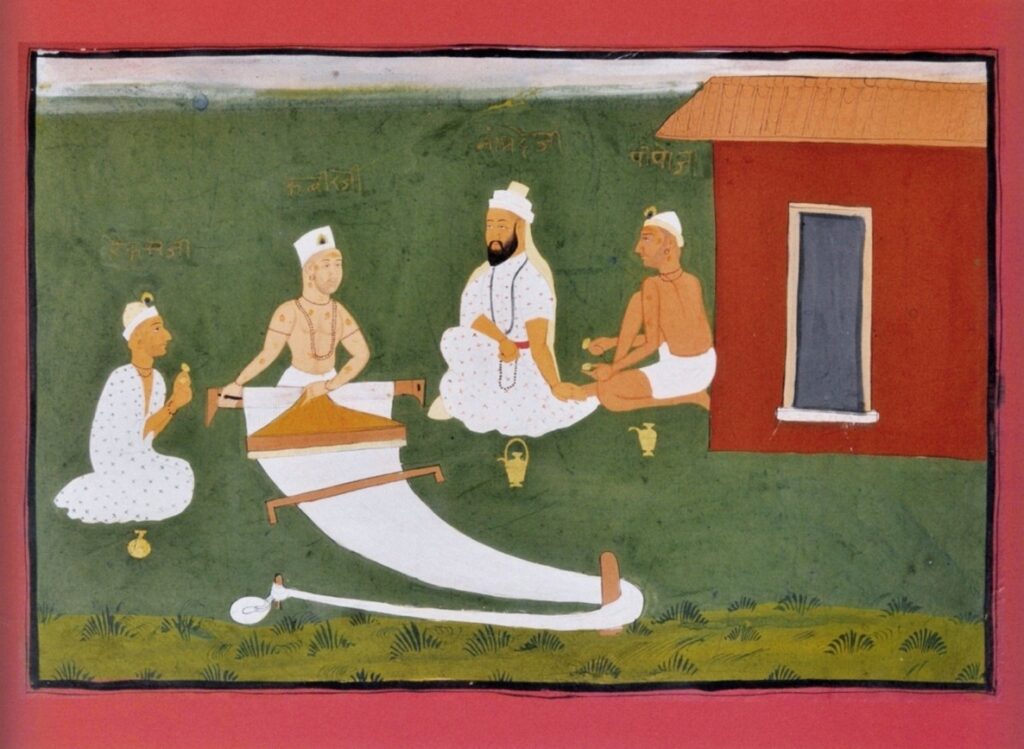 Bhagat Beni can be considered a contemporary of Guru Nanak as he lived sometime between mid-15th to the mid-16th century. He was a well educated scholar. He has three hymns included in the SGGS on several pages (61, 974 , 1192, 1351 and 1390).
Bhagat Bhikhan (born in Kakori near Lucknow in 1480, passed away in 1573): Bhikhan was a medieval Indian saint. There is some confusion whether he was a Hindu or a Muslim but certainly was one of the most learned men during the reign of Emperor Akbar (1542-1605) and was a contemporary of several Gurus from Guru Nanak to Guru Ram Das. Two of his hymns are included in SGGS (page 659).
Bhagat Dhanna (born in Dhudwa, Tonk, Rajasthan in 1415, passed away in 1475). He was born in a Dhaliwal family, was a mystic poet and a Vaishnav devotee. He went to Kashi and got initiation from Swami Ramananda. After returning, he spent time in farming and in serving the needy and holy men with dedication and devotion. His four hymns appear in SGGS (on pages 488, 835, 995 and 1192), one of which is recited in the invocation Aaarti.
Baba Farid (born in 1173 in Kothewal near Multan , passed away in 1265 at Pakpattan). His full name was Farīd al-Dīn Masʿūd Ganj-i-Shakar, also Fariddudin Shakarganj, a disciple if Qutubuddin Bahkhtyar Kaki and co-founder of the Chishti order, He was a 12th-century Punjabi Muslim preacher and mystic who went on to become one of the most revered and distinguished of Muslim mystics. The town of Faridkot in Punjab in India is named after him. About 134 compositions attributed to Farid are in SGGS (pages 488, 1377, 1382,1384).
However, there was also Sheikh Farid II. Sheikh Brahm, also known as Farid Sani or Shaikh Brahm Sahib or Farid the second of Patan, was the 11thin succession to Baba Farid Ganjshakar. He passed away in 1552. Legend has it that Guru Nanak visited Sheikh Brahm before heading for Mecca. There is a general concesus among historians that the couplets of Sheikh Farid in SGGS were actually penned by Sheikh Brahm and not by Sheikh Farid Shakarganj, as Guru Nanak had met him during his travels. It is also possible that these verses were written by several persons, using the common name Farid.
Bhagat Jaidev (born in 1170 in Kindu Bilvã, Birbhum, West Bengal according to one source but near Jagannath Puri in Odisha in another, later passing away in Odisha). Bhagat Jaidev whose childhood name was Pardharmrik was a saint and poet. He is best known for his composition Gita Govinda which describes the relationship between Krishna and the gopis of Vrindavan. Two of his hymns are found in SGGS (on page 505).
Bhagat Kabir (born in 1398 in Varanasi, passed away in 1448 but dates differ). Kabir was born in a Muslim family of weavers but was strongly influenced by the Hindu bhakti leader Ramananda. Kabir is a well known household name even today largely becaue of his use of the common man's simple language and local dialects. He was a prolific orater/ writer using very simple language. Kabir's teachings led to formation of the Kabirpanthi sect whichis a north India-based community of both Muslim or Hindu ancestry. They recognise Kabir as their Prophet. Some 541 verses/hymns penned by Kabir are included in SGGS, virtually spread over the entire Granth Sahib from page 91 to 1377 indcating the great appreciation his writings by the Gurus.
Bhagat Namdev (born on 26October 1270 in Narsi, Hingoli, Maharashtra, passing away on 3 July 1350 in Pandharpur). Namdev was a poet and saint from Maharashtra, belonging to the the Varkari sect of Hinduism. His 60 hymns included in SGGS are spread between pages 345-1351.
Bhagat Parmanand(born in Kannauj, UP in 1483), in a Hindu Brahmin family, was a devotee of Lord Vishnu. One of his hymns is included in the SGGS on page 1253.
Bhagat Pipa (born at Gagaron in present day Jhalawar, Rajasthan on 5 April 1425). Known variously as Pratap Singh Raja Pipaji, Rao Pipa, Sardar Pipa, Sant Pipaji, Pipa Bairagi or Pipanand Acharya, he was from a Khichi Chauhan Rajput family. Pipa, the king of Gagaraungarh abdicated his throne to become a mystic, poet and saint of the Bhakti movement. His hymn is included in SGGS (on page 695).
Bhagat Ramananda (born at Allahabad in 1400, passed away at Banaras in 1476) : From a Brahmin family he was a poet, popularly known as a Vaishnav saint and considered to be reviver of the Bairagi sect. His hymn is recorded in SGGS (on page 1195).
Bhagat Ravidas (born in Varanasi, on 30 Janauary 1399, passed away there in 1540). Ravidas was a mystic poet-saint of the Bhakti movement, being of spiritual bent of mind, banished by his father for refusing to practice the family leather business. He is venerated as a guru in Uttar Pradesh, Rajasthan, Maharashtra, Madhya Pradesh as also in Punjab.
Bhagat Ravidas's teachings have had great impact on the people, particularly among st those belonging to "low" castes, which has led to emergence of a separate religion Ravidassia. His followers call themselves Ramdasias who are mostly chamaars (described as untouchable and at the lowest rung in the Hindu caste system). There are 41 hymns of his in SGGS (on pages 93, 345-346, 486-487, 525, 657-659, 694, 710, 793-794, 858, 875, 973-974 and 1106). In several of his verses, he refers to himself as Ravidas Chamaar.
Bhagat Sadhna (born in 1180 at Sehwan Sharif, Hyderabad Sind now Pakistan, passed away in Sirhind, Punjab, India). Bhagat Sadhna, also referred to as Sadhna Qasai (butcher), was born in a Muslim family who were butchers by profession. Sadhna was drawn towards spirituality and as a result, used to have spiritual discussions with holy men who came to his shop. He was a poet, saint and a mystic.One of his hymns is in SGGS, on page 858.
Bhagat Sain was born in village Sohal, Tarn Taran, Punjab in 1400, passed away in Varanasi in 1490. Bhagat Sain was a barber in the court of Raja Ram, the king of Rewa in Madhya Pradesh, one of the 12 renowed disciples of Ramanand. His hymn is on page 695 in SGGS, and part of the Sikh Aaarti.
Baba Sundarwas the great grandson of Guru Amar Das.He is known for his six-stanza composition, the Ramkali Sadu, incorporated inSGGS on pages 923-924 a form of folk poetry prevalent in rural Punjab. It is commonly recited at conclusion of a reading of the SGGS.
Bhagat Surdas (born in 1529, passed away at Varanasi in 1573). His original name was Madan Mohan and is said to have been born in a high-ranking Brãhmin family. Bhagat Surdas has only one line in the SGGS on page 1253, "O mind, abandon the company of those who turn away from God."
Bhagat Trilochan(born in Barshi, Solapur, Maharashtra in 1269). He was a celebrated saint of the Vaisya caste of Hinduism and a contemporary of Bhagat Namdev. Five of his hymns are in SGGS(pages 92, 525-526, 695).
Banis of the Bhatts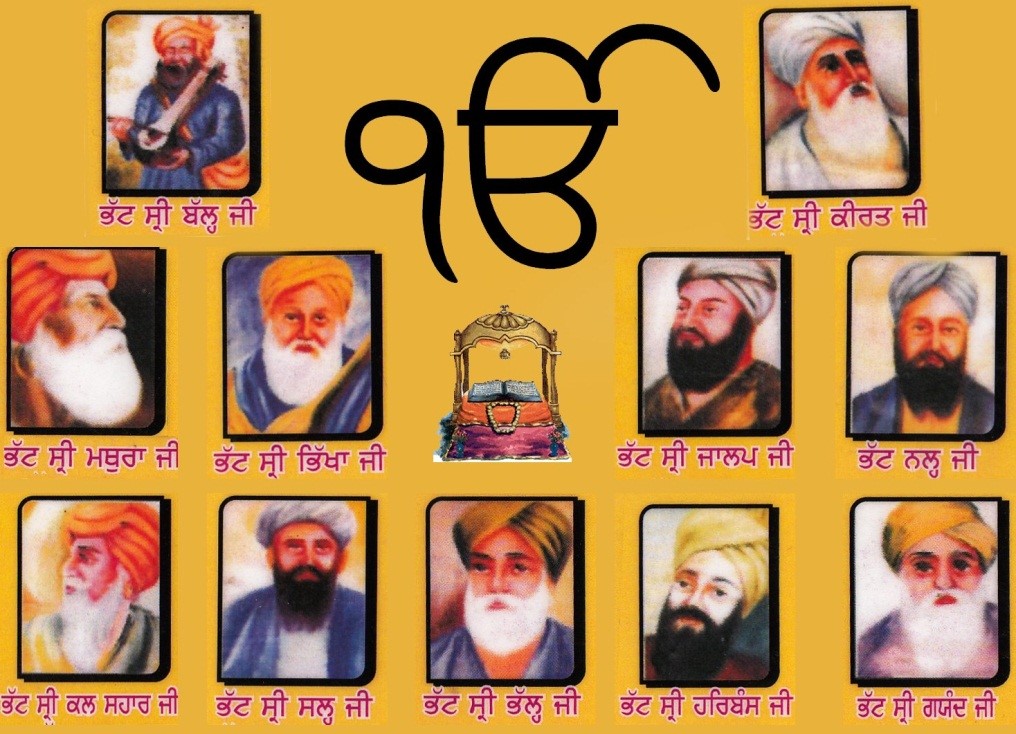 Bhatts were learned minstrels/bards who earned their living essentially singing in courts and social functions. Several of those listed were inter-related and attended the court of Guru Arjan Dev. Their compositions and singing were mostly in praise of the Sikh Gurus, mainly Guru Ram Das and Guru Arjan Dev, thus their contributions are in different class than being purely religious hymns. Bhatts whose compositions appear in Guru Granth Sahib are as given below, most of their writings in the form of swaiyes (a non raga measure), mainly on pages1389-1409.
Balvand Rai was a poet, mystic and rebeck player in the court of Guru Arjan. He was a Muslim belonging to the Mirasi community who embraced Sikh thought during the time of Guru Arjan. His three hymns are included in SGGS inRamkali measure. He co-composed this ballad of Ramkali with his rebeck-player cousin Satta Doom which includes a total of six hymns (page 966 of SGGS).
Bhatt Bhalh was a Brahmin bard in the court of Guru Arjan Dev, nephew of Bhatt Bhikha and brother of Salh. His hymn is included in SGGS(page 1396).
Bhatt Bhikha came from Sultanpur Lodhi in Kapurthala district of Punjab. Bhatt Bhikha, like some others was also a Brahmin bard. He first presented himself at Guru Amar Das's durbar at Goindwal, was the eldest of the Bhatts and became a Sikh, initiated by Guru Arjan Dev. His two hymns are included in SGGS (pages 1395, 1402).
Bhatt Gayand was a Saraswat Brahmin by birth, became a Gurmukh after listening to Guru Arjan Dev. Younger brother of Kalshar, he was also a bard in the Guru's court. There are 13 hymns (Swaiyas) in SGGS (pages 1401-1404). He introduced Waheguru for the first time in Sikh literature and recitations.
Bhatt Harbans was another Brahmin bard in the court of Guru Arjan. He was a man of letters and had intimate knowledge of the culture of India; his two Swaiyas are in SGGS ( page 1409).
Bhatt Jalap was son of Bhikha and brother of Mathura and Kirat. He was also a bard in the court of Guru Amar Das and Guru Arjan Dev. His five hymns are present in SGGS (page 1394-1395).
Bhatt Kalshar was a Brahmin bard in the court of Guru Arjan, whose 54 hymns are incorporated in SGGS. He was elder brother of Gayanand and a nephew of Bhikha. Traditionally, Kalshar is believed to be a collector of hymns of other Bhatts which were incorporated into SGGS (pages 1392-1394).
Bhatt Kirat was the son of Bhikha and a brother of Jalap, also a Brahmin bard in the court of Guru Arjan Dev. His eight hymns are included in SGGS (pages 1389-1410).
Bhatt Mathura too was a Brahmin bard in the court of Guru Arjan and author of fourteen Swaiyas which appear in SGGS (Page 1409). Starting with Guru Nanak, he traces the history of the first five Sikh Gurus. He was also trained in martial skills during the time of Guru Hargobind and fell a martyr in the battle of Amritsar which, according to Bhatt Vahi Multani Sindhi, took place on 14 April 1634.
Bhatt Nalh was a Sikh Brahmin bard in the court of Guru Arjan Dev. His 16 hymns are present in SGGS (pages 1398-1400). In his writings, he introduced two new Chhands, Jhoolna and Radd.
Bhatt Salh was younger brother of Nalh and a nephew of Bhikha, also a bard in the court of Guru Arjan, His three hymns are present in SGGS (page 1396).
Sikh Prayers and their Musical Measures (Ragas)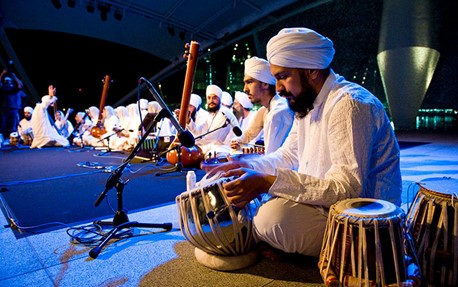 Beautifully rendered in classical ragas are various banis of prayers of the Sikh faith.
| | | | |
| --- | --- | --- | --- |
| Japji Sahib | Jaap Sahib | Chaupai Sahib | Twaprasad Sawaiye |
| Anand Sahib | Sukhmani Sahib | Rehras Sahib (only shabads) | Kirtan Sohila |
| Asa di Vaar | Ramkalee ki Vaar | Jaitsree di Vaar | Basant ki Vaar |
| Chandi di Vaar | Aarti | Shabah Hajare | Sidh Gosht |
| Baavan Akhree | Laavan | Salok Mahalla 9 | Baraa Maahaa |
| Tukhari | Baraa Maaha Manjh | Dakhni Ongkar | Ardaas |
| Sawaiye Deenan | Bhagat Bani | Shalok Kabir ji | Shalok Farid ji |
| Bhattan de Savaiye | Akal Ustat | Chandi Charitar | Zafarnama |
| Suchaji | Kuchaji | Funnhe | Chaubolas |
| Ramlakee Sadd | Vaaran te Vadhik | Raag Mala | |
Sixty ragas alongwith with pages on which they first appear in SGGS are given below. The entire text is sung in specified ragas except some parts in the beginning such as Japji Sahib and the end (sawaiyes).The 31 main Ragas are indicated in bold types, others are their combinations/mixtures. While selecting the ragas to be used, Guru Arjan omitted those ragas which had a jubilant tone such as Megh and Hindol. Likewise, Raga Jog and Dipak were omitted for their melancholy approach.
| | | | |
| --- | --- | --- | --- |
| Rag Asa, on page 8, | Gujari on page 10, | Gauri Deepaki p. 12 | Dhanasri on page 13 |
| Gauri Poorabi p.13 | Sri on page 14 | Majh page 94, | Gauri page 151 |
| GauriGuaraireep 151, | Gauri Dakhani 152 | Gauri Chaitee p.154 | Gauri Bairagan p. 156 |
| GauriPoorabi Deepaki p.157 | Gauri Majh p.172 | Gauri Malva p.214 | Gauri Mala p. 214 |
| Gauri Sorath p.330 | Asa Kafi p. 365 | Asavari p. 369 | Asa Asavari p.409 |
| Devgandhari p. 527 | Bihagra page 537 | Vadhans page 557 | Vadhans Dakhani 580 |
| Sorath page 595 | Jaitsri page 696 | Todi page 711 | Bairarri page 719 |
| Tilang page 721 | Tilang Kafi p.726 | Suhee page 728 | Suhee Kafi page 751 |
| Suhee Lalit page 793 | Bilaval page 795 | Bilaval Dakhani p. 843 | Gound page 859 |
| Bilaval Gound p. 874 | Ramkali page 876 | Ramkali Dakhani 907 | Nut Narayan p. 975 |
| Nut page 975 | Mali Gaura p.984 | Maru page 989 | Maru Kafi page 1014 |
| Maru Dakhani 1033 | Tukhari p. 1107 | Kedara page 1118 | Bhairo page 1125 |
| Basant page 1168 | Basant Hindol 1170 | Sarang 1197 | Malhar page 1254 |
| Kanada page 1294 | Kalyan page 1319 | Kalyan Bhopali 1321 | Parbhati 1327 |
| Parbhati Bibhas 1327 | Parbhati Dakhani 1344 | Bibhas Parbhati 1347 | Jaijaivanti p.1352 |
Reverence, Care and Recitation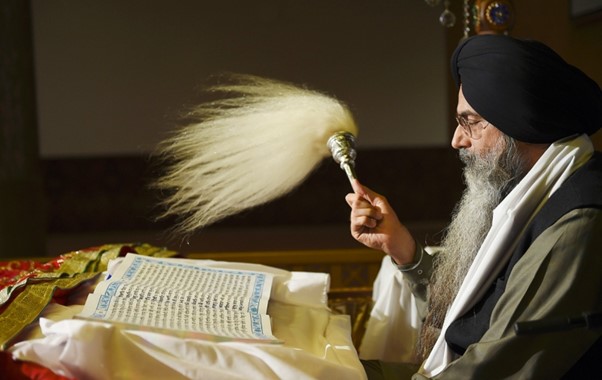 The text of SGGS is on 1,430 angs (pages) and includes 5,894 śabads (line compositions). These are poetically rendered and set to a rhythmic north Indian classical form of music. Most of the text is set into 31main ragas with each raga subdivided according to length and author. In most cases, the writer and the raga form the prefix for example , hymn starting with Asa Mahala pehla means that the hymn is set in Raga Asa and is written by the First Guru (Mahala refers to Guru). Throughout the text, the word Rahao (meaning pause) recurs after a hymn. It is also recited with the text though not while singing that hymn.
Guru Granth Sahib is not only the accepted Guru of the Sikhs but is also unconditionally revered and to some extent, even idolised. It is elaborately wrapped in special fabrics and placed on a pedestal higher than anything else. It is ceremoniously opened every morning and closed in the evening. In urban, well-endowed gurudwaras it is placed in an air conditioned room for "comfort". Any person of any faith can enter a gurudwara with bare feet, and covered head and pay obeisance, standing in front of the holy book with folded hands, making a totally voluntary donation and lowering the forehead while kneeling on the ground as a mark of respect. After that the devotee may sit cross-legged any where alongwith the congregation. In recent years, chairs have been installed for the elderly in a section of the hall.
Any person who can read Gurmukhi, can read and recite SGGS and its recitation by an appointed priest is not at all mandatory. It can be read at any time of the day keeping in view specific hymns for specific occasions and time of the day. One can recite a particular hymn or a complete prayer at one sitting. While being in the presence of SGGS, before or after recitation, it is mandatory to remove one's shoes, cover the head and not posess any tobacco or other narcotics. While in the presence of SGGS or during the singing of hymns, no verbal praise, wah wah or clappings are permitted at all. Current stipulations demand that whenever the holy book is transported from on location to another, it must be escorted by five Sikhs (Panj Pyare).
Nitnem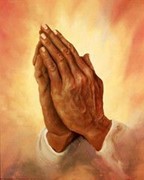 The daily Nitnem (daily practice) of a Sikh consists in recitation of five prayers, an integral part of the life of a Sikh. Its components and their average duration in minutes are Japuji Sahib (15), Jaap Sahib (15) and ten Savaiyye (5) which form the set of morning prayers; Sikhs often combine the morning prayers with the Anand (bliss) Sahib, Shabad Hazare (10) and the Sukhmani Sahib (60-70). Sodar Rahras Sahib (15) is the evening prayer and Kirtan Sohila (10) is recited before one sleeps.
Guru Granth Sahib begins with Japji Sahib, preceded by mool mantra, which represents the core of Sikh philosophy. Most of the Jaap Sahib, composed by Guru Gobind Singh, forms first part of another Sikh scripture, the Dasam Granth. Jaap Sahib has 199 verses, proclaiming the attributes of the supreme truth, Satnam. Unlike, Japji Sahib, Jaap Sahib is composed predominantly in Braj bhasha, Sanskrit and includes some Persian words. The third morning prayer consists of 10 Savaiyye. This bani originally forms a part of Akal Ustat, praise of the Timeless, also composed by Guru Gobind Singh.
Jaap Sahib, 10 Sawaiyes and Akal Ustat are not a part of SGGS.

Several Sikh prayers are time and occasion-specific. Thus Rehras Sahib is an evening prayer, Baraa Mahaa contains verses devoted to each of the12 months and verses pertaining to a specific month are recited at the start of that month, Laavan is the prayer sung while conducting a Sikh wedding and then there are specific hymns which are recited after a funeral. Aardas is recited as a closing after a prayer session/ function and Raag mala describes the various ragas used in SGGS.
The guidance of SGGS is also sought for naming a new born child which by itself is an interesting statistical exercise. The priest opens the holy book at random in the presence of the family. The first letter on the left hand page is announced and the family is asked to give the child any name they like which starts with that letter.
An uninterrupted recitation of SGGS, Akhand Paath, is meant to be completed in 48 hours at the rate of approximately two pages per minute. This is done by a relay of readers day and night in convenient sittings. They can be paid readers, householders or public persons . There is no evidence when the presently-popular practice of conducting or 'sponsoring' an Akhnad Paath started. Sampath Paath refers to completing the recitation of SGSS in a week while an open Paath has no time frame as it is upto the individuals.
Dr HLS Tandon, Ph.D. (Illinois, USA)